Give Your Pet's Health the Best in Life!
Interested in a 1-year extension to your puppies Health Guarantee?
​
We feel so strongly about NuVet supplements that we also offer an "additional" One year health guarantee, total of 36 months, if you keep your puppy on Auto Ship Order of NuVet supplements. NuVet will notify us when you place an order. To order this product please go to NuVet OR you can call 1-800-474-7044. You will be asked for a referral code which is 75539. To honor this offer you must order within 10 days of taking ownership of your new puppy. If you choose to end using NuVet supplements, or Not order, the guarantee extension ends at that time.

NuVet is a chewable wafer that he enjoys daily as a treat. It is vital to the development of his immune system, especially during his first years, but nutritionally beneficial for life.

In addition to building his immunity it also helps him develop a healthy coat, fight off allergies, and prevent many of the health issues that are not covered by vaccines, thereby extending your dog's longevity.
TO ORDER, CLICK HERE OR CALL: 800-474-7044 ID Code: 75539
(PLEASE Make sure you give them this code when you order. If you do, they will donate a portion of the sale to help save homeless & abused rescue dogs!!!)
~ Award Winning #1 Supplement in the United States
~ One of the Oldest, Most Successful Pet Vitamin Companies in the U.S.
~ On the Market for Over 12 Years
~ Manufactured in a FDA (human-grade) Manufacturing Facility
~ Human-Grade Ingredients
~ 100% Natural
~ Holistic
~ No Sugars & No Fillers
~ Cold Pressed NOT Heat Treated
~ Created by a Team of Professional Veterinarians, Physicians, Pharmacists & Nutritional Scientists
~ You won't find a pet vitamin of this high caliber in your local "petstores"
NuVet Wafers Vitamins | for Medium, Large & Giant Breed Dogs
Recommended for larger dogs. This wafer is kind of hard and big for a tiny puppy but larger dogs love them and eat them like treats. You can break these wafers up into smaller pieces for puppies which is like giving them a broken up hard biscuit treat for them to enjoy. NuVet does sell this exact same vitamin in a powder form that you can sprinkle over their food each day. Give 1 wafer a day for dogs over 5 pounds. This is an excellent vitamin for all breeds, all sizes and all ages.
90 Wafers $55.50
180 Wafers $107.70
360 Wafers $199.90
Joint Plus Vitamin | for Middle Age to Senior Dogs
Arthritis
Osteoarthritis
Anti-inflammatory
Hip & Joint Issues such as hip dysplasia etc…. this vitamin really has made a difference in easing their symptoms and allowing them a higher quality of life & to move around better. Below is a video explaining more about this vitamin.
$55.70 for 180 Tablets
$107.70 for 360 Tablets
$199.90 for 720 Tablets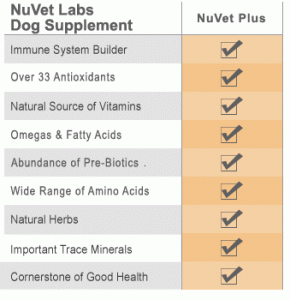 Why Do We Recommend NuVet?
Over the years we have tried so many different brands of vitamins and nothing has even come close to the quality of NuVet. The NuVet Plus Powder is 100% made with real chicken liver so that even your most finicky picky dogs or puppies will love it Can be used on wet or dry food. Designed for ALL breeds, sizes and ages of dogs. From puppies upto seniors. It gives your pet a stronger immune system, strengthens their heart, lungs, liver, kidneys, nervous system, muscle development and connective tissues. NuVet Plus Powder is full of the proper vitamins, minerals and a complete antioxidant intake. It's balanced to improves metabolism of proteins, fats and carbohydrates, increases energy, joints and motility and gives your dog or puppy that extra resistance to diseases as well as aids in preventing your pet from getting various serious long-term health problems, especially at an early age and much more!! So with their products your pet has nothing to lose and everything to gain. We strongly believe in providing our dogs and their babies with everything they need to have the best start to help them live long, healthy, happy lives!
Health Benefits of All NuVet Vitamins
Prevents and Reduces the Risks of:
Heart Disease

Liver Disease

Diabetes

Premature Aging

Cataracts & Tumors

Arthritis & Joint Problems

Improves Low Energy Levels

Eye Tearing
Improves Low Energy Levels

Allergies

Skin & Coat Problems

Soothes Dry Flaky Skin

Reduces Scratching, Itching, Biting

Strengthens Immune System & Vital Organs

Prolongs Life
A Message from NuVet Labs
We love animals and we know you love them too! Unfortunately, the majority of dogs and cats are not receiving a complete, healthy diet and many become ill and die prematurely. NuVet Labs™ main purpose is to help increase your pet's longevity and quality of life. Our products, NuVet Plus™ for Canines and NuVet Plus™ for Felines, provide the very best human-grade, natural ingredients available and utilize the latest advances in medical, veterinary and nutritional science. We pledge to adhere to the highest standards in products and services. Our goal is to maintain a lasting and caring relationship with our family of NuVet Plus™ customers and their pets they love.
Our scientists, veterinarians and formulators began with the premise that most pet diets are lacking the proper amounts of vitamins, minerals and antioxidants. There are important nutrients that animals once received when they were living in a more primitive environment that are not available in the modern diet. Commercial pet foods contain numerous by-products that can make them poisonous, toxic and incapable of reducing the devastating effects of unstable oxygen molecules, also known as "free radicals." Free radicals have been implicated in more than fifty health problems in humans and animals including various forms of cancer, heart disease, arthritis, cataracts and premature aging.
After extensive testing with many different combinations of ingredients, our scientists formulated NuVet Plus™. We believe, based on the most current medical, veterinarian and nutritional reports, NuVet Plus™ will combat the onslaught of free radicals in our companion pets. This unique formula consists of precise amounts of vitamins, minerals and high-potency antioxidants that when combined, create a synergistic and powerful boost to the immune system.
TO ORDER CALL:
800-474-7044
YOU WILL NEED ORDER CODE #: 75539
OR go to the NuVet site directly (you must enter the web address EXACTLY or just click the link below):